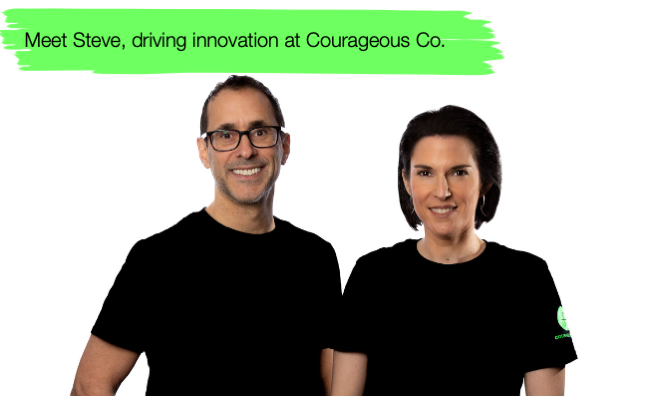 2020 has been an incredible year as individuals and organisations saw their worlds turned upside-down by the impact of Covid-19. But it also brought Courageous Co to life. As we enter 2021 the pace of change shows no signs of abating, and it's with this momentum that we add even more transformation to the mix: Steve Elstein, co-founder of Courageous Co, joins to lead our innovation consultancy work. Steve had been supporting his wife of 18 years, Michelle, in setting up Courageous Co behind the scenes since its inception. Now he's officially stepping out of the shadows: after over 20 years leading global R&D teams in Fortune 500 companies, Steve is now helping leaders to innovate with the unique Courageous Co approach.
A scientist by education, an innovator by trade, a fitness junkie by heart
With a degree in Chemistry, Steve started off as a scientist in the development of new beauty products and then went on to help organisations to craft and deliver ideas to market, whether products, services, or innovating on ways of working and processes. Over the years he's blended his scientific methodology with creative thinking to foster innovation in Fortune 500 companies, based out of the US and UK. He's now adding experiential techniques to the mix.
Steve has always had a fundamental interest in the power of exercise to motivate and empower himself, his  colleagues and his family.  At work, he's been involved in cycling clubs and challenges, getting employees more involved with Health and Well-being and even driving engagement with the London 2012 Olympics when the Olympic Torch visited P&G Egham Site – still one of the most memorable days of his P&G career.
The real epiphany came when Steve realised that exercise should not just be fitted around work, but that movement of the body could be integrated into the work process to help us think differently and generate new perspectives.
What's it like to work with Steve
Steve is determined and driven to find the best outcome to a challenge. He has a deep curiosity to discover what may be possible for clients and then figure out how we make it happen. He works side by side with clients to explore new territories and push boundaries. He gets a buzz seeing new products, processes and services we have co-created come to market.
He loves sports and has taken on half marathons, century bike rides and triathlons over the years. He's partway through his fitness qualifications so expect him to get you generating new ideas by moving and thinking differently!
What Steve brings to Courageous Co
In his career Steve has managed the growth of multi-billion-dollar product portfolios by enabling and delivering global innovation strategies. As importantly, he has led teams through difficult organisational restructuring and subsequent cultural integration and transformations. His experience means he knows that identifying new ideas requires creative thinking, willingness to experiment and iterate, and an ability to learn from experiences.
Delivering any new idea to end users requires organisational alignment, commitment, tenacity and resolve.  He will help Courageous Co's clients to develop these innovation capabilities at pace when incorporating experiential techniques– getting organisations to move and think in new ways, even when we are geographically dispersed and virtually connected, as we are in 2021.
Innovating in 2021
Steve's mission going forward is clear – to help leaders and global teams get to the outcomes that are important to them as quickly as possible.  We already help clients to address leadership, organisational, cultural and resilience challenges.  From today, through consulting, coaching and strategic planning, we will equip our clients to:
Create and deliver innovation strategies
Foster environments for innovation
Develop capabilities for ideation
Generate product pipelines
If you are interested in our approach or want to chat more about how to innovate in 2021, then please get in touch with Steve and with the team.