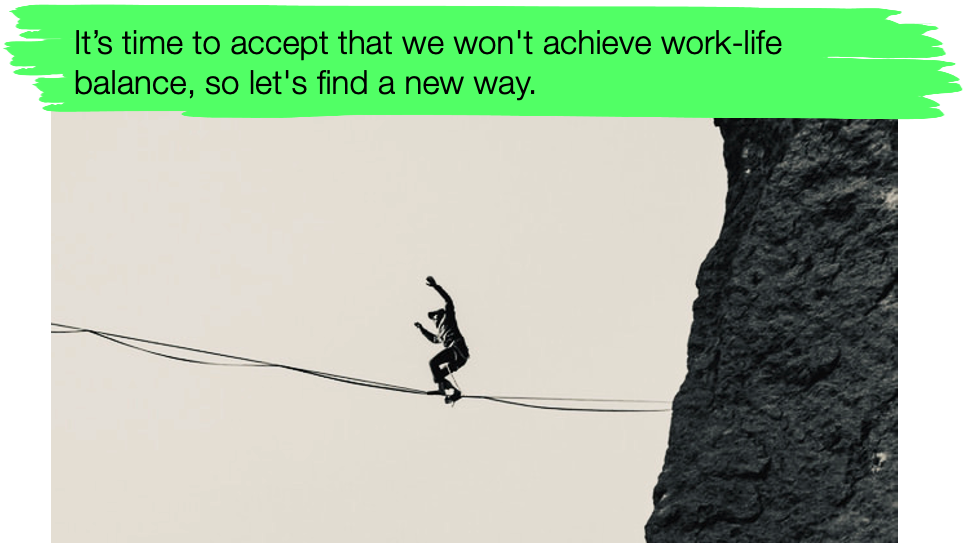 It's time to move on from the Work-Life Balance notion. It adds more pressure that throws us further off balance.
We predict that the new normal is all about 'Work-Life Integration'. Relieve yourself of the burden to keep trying to balance everything!!
By giving yourself permission, without any guilt, to put in place habits that serve you well, you'll relieve stress and fatigue.
By acknowledging what you need to be at your best and integrating it into the working day (whatever hours that means to you), you'll feel and perform better. Whether it's a late start, a whole lunch hour or a time out at 3pm for family, exercise or anything else that supports your wellbeing.
If you lead others, you have a responsibility to give your people the space they need. You can even take time to purposefully integrate 'arrival' time at the beginning of meetings to stretch and breathe with your colleagues. Just 2 minutes of that, and you'll have a more productive conversation!
Work-life Integration will be at the heart of sustainable organisations in future.
Mental Health Awareness Week is on May 10, get in touch if you need help to support your people.