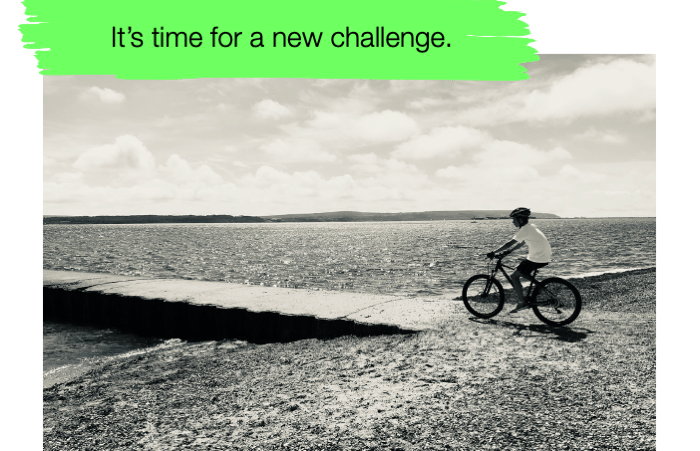 New Year. New Opportunity. Stepping Into A New Role.
By Steve Elstein, Courageous Co. Co-Founder
A new year and a new opportunity to try new things. That's true for all of us. For me personally, having led global innovation strategies in Fortune 500 for over twenty years, 2021 is the year I become a leader of a different kind.  I've been working behind the scenes to grow Courageous Co. since its inception. Now I am front and centre with my wife Michelle Elstein who has been trailblazing new consulting and coaching approaches. Together we equip global leaders and teams to lead culture change and build new capabilities beyond what they perceived to be possible. 
It's an incredible privilege to work with my partner in life to build a business which acts in service of others. That's a core value we both share and one which inspires us to bring our energy to every interaction.
Courageous Co. has made a tangible impact supporting clients through the last year, in a way that has not just solved problems, but triggered curiosity for new ways of improving performance and energising people at the same time.  As we move into a distributed hybrid world, I'm excited to broaden the Courageous Co. offering to equip more leaders to successfully innovate and transform people and business performance. 
Outcomes are everything
I've always been driven to help others get to the outcomes that are important to them – both in my professional life and my community life, as a non-exec leader of a number of charitable organisations. Today, leaders and teams need more of an open mind and willingness to adapt than ever.  If in 2020 we focused on how to survive, then I say, in 2021 let's focus on how to thrive.
Over the years, in various leadership roles at Procter & Gamble, Coty Inc. and ghd, I have had the privilege of growing multi-billion-dollar product portfolios by enabling and delivering global innovation strategies. I combined leadership with science, R&D, new product development and consumer insights experience.  
As importantly, I've led teams through difficult organisational restructurings and subsequent cultural integration and transformations. I appreciate the challenge and responsibility associated with getting whole organisations to adapt to new and different situations and ways of working. 
Empowering people within a culture that truly fosters the spirit of innovation-by-teamwork, has been a critical component of success. Seeing revenue and morale rise in tandem is hugely rewarding – market, financial and people performance can and should be common goals.
My purpose at Courageous Co. is clear – help leaders and global teams get to the outcomes that are important to you as quickly as you can. 
The mind drives, but it's the foot that hits the accelerator
A fundamental for realising successful innovation is that to get to new outcomes, you need to think differently first. There's usually a discovery process. As a scientist by background, I love the analytics. Imagine however, if you could short circuit that process and see the opportunities to adapt, pivot and prototype more quickly. 
The way to do this is to involve your brain and your body in the discovery process. Let me give you an example using the Courageous Co. approach of fusing leadership and fitness principles in the consulting work we do. We send Innovation Toolkits to our clients. The most important element is an agility ladder. Why? Agility in the fitness world is all about traveling at a certain speed, able to pivot and change direction without slowing down or losing balance. 
In the leadership world, it's about moving in the strategic direction of travel, acknowledging the required pace and perspective achieve outcomes efficiently. We work with our clients globally, running agility ladder drills – not to get them fitter, but to help them realise new perspectives and the reality of how to achieve them in an experiential way.  
I'm a fitness junkie and I'm all-in personally and professionally
The notion of integrating leadership and fitness is inspiring to me. Over the years, I've done my fair share of triathlons, bike rides and half marathons. I sponsored wellbeing and sporting challenges in my time at P&G, knowing how important the mind-body connection is – not just for our health but for our creativity, collaboration and ability to succeed. 
Today, I'm somewhat addicted to the Peloton app and am fuelled by the mindset they foster in the strength, yoga, pilates and spin classes. I want to set a good example to my children to be fit and healthy to help with their online school concentration. We have started a lockdown cycle challenge as a family – the outcome is not really the mileage we do as a team of four Elsteins, but how many times I can get them off the PS4 and in the saddle!
When I train, I'm all-in and willingly go out of my comfort zone to see what might be possible. When I work with clients, I'm all-in and bring a determination to co-create with them no matter how difficult the challenge. 
The courage to embrace change
I'm hugely motivated by the challenge to do something new and achieve new things, for myself, my family and our clients.  As co-founder of Courageous Co., I'm proud of how we ourselves have experimented, adapted and taken risks which have paid off to get to where we are today in a pandemic-driven environment. We can and will continue to serve those who have the courage to create their future.
Check out our website Courageous-co.com to see what we are up to and get in touch if you would like a chat!