OUR PURPOSE
Our purpose is to bring people together to achieve things they don't know are possible yet. By adapting mindsets and behaviours at scale, we enable global organisations to grow and thrive. We love seeing the impact people realise they can make.
The Co. in Courageous Co. is for the colleagues, cohorts, collaborations, companies and communities we will serve in their efforts to try new things, inspire new confidence and realise new outcomes.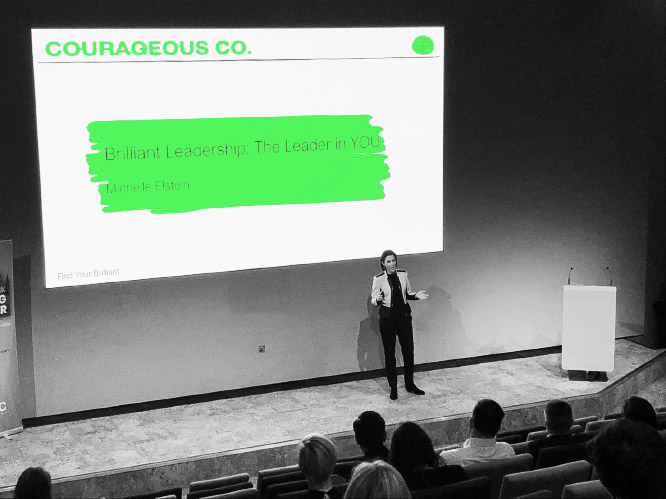 OUR STORY
HELPING PEOPLE TO THRIVE
After 20 years of working in international corporations and leading business growth, Courageous Co.'s founders Michelle and Steve Elstein realised their energy and ideas couldn't be contained in one company at a time. They wanted to disrupt the way corporate leaders manage change and performance across the board, not just in one industry or location.
In their professional lives as leaders, they pushed boundaries, drove innovation, celebrated achievements and coached many leaders and teams to achieve their personal and professional goals.
Outside of work, Michelle and Steve had always been fitness enthusiasts, completing marathons, triathlons and cycling challenges. After suffering a traumatic cycling accident which meant she had to undergo facial reconstructive surgery, Michelle's life changed.  Recovery turned out to be a tough task, even for a very positive person like Michelle.
During this trying time, she decided to qualify as a personal trainer. She discovered powerful parallels to the principles which enable you to excel as a corporate leader and in fitness. Agility, flexibility, balance, pace, strength and endurance are essential to both. She started introducing fitness metaphors and fitness-based experiential elements into her leadership role and coaching. The effects were profound. It became clear that this approach could help leaders and teams unite, adapt, innovate and grow more quickly than other change management and leadership development techniques in the market.
So, with a big gulp of courage and a ton of encouragement from those who have known Michelle professionally for decades, Courageous Co. was born. Steve worked behind the scenes for the first two years and then they stepped up together to enable others to create new futures.
Our team and network of associates help people achieve success beyond their perceived limits. Our dedicated team of professionals understands both the fitness and business worlds thanks to a combination of practical experience and qualifications, allowing us to inspire leaders to think and act differently.
OUR COURAGEOUS BELIEFS & VALUES

OVERCOME LIMITING BELIEFS
What we think, feel and do is a choice. Fear and reticence exist in the mind, so we have to choose to convert it into a positive. We seize the opportunity to go out of our comfort zone to have a positive impact on others. We respect those who do the same.

BE HEALTHY
Mind and body go together. We believe in contributing in a healthy way: being purposeful in the goals we set whilst respecting ourselves, emotionally, mentally and physically. We own this balance and self-awareness for our clients, families and communities, who need to incorporate recovery time to go the distance.

KEEP MOVING FORWARD
We know when to step forward, pivot, change pace, balance and bring in diverse thinking. We're constantly developing both our mental and physical agility to always be moving forward without ever losing sight of our clients' bigger picture.

MAKE THINGS HAPPEN
We will push the boundaries to help you adapt and get the outcomes that you need. We can't always control the race, but we can choose how to run it and make sure we do our best. By enabling different ways of thinking and moving, we can discover new paths towards personal and organisational success. Along the way, we build in gratitude for the adventure.