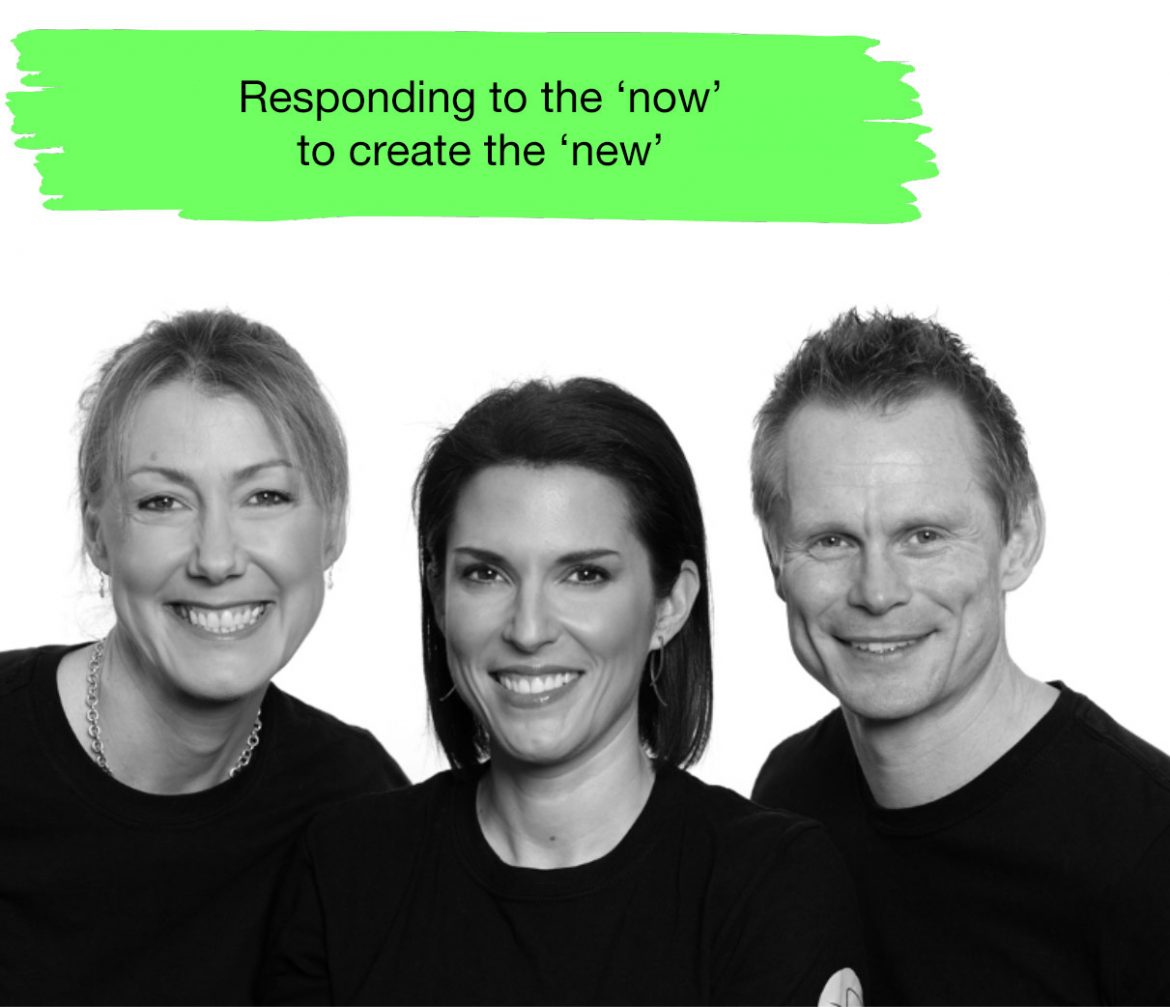 Finding the positive in the 'now'
We appreciate that leaders are under pressure to 'do the right thing' as they navigate uncharted waters and uncertainty. It's hard to find many positives in the current environment, but if there is one to be found, it is in recognising the opportunity to act in service of employees. We believe people are incredibly resourceful and we hear every day – from leaders with and without title – that they want clear purpose and a way to contribute in their roles to get through this moment and beyond.
Respond, don't react, to the 'now' to create the 'new'
We're all about helping leaders and teams come together, develop and regenerate – whether it's the business strategy, culture or people. A core part of that is encouraging, empowering and trusting our people to be Self Leaders.
We're thinking of the 'now' but also preparing for 'exit' as we are gradually released from lockdown. We will enable organisations to take learnings and experience from this time to establish cultural evolution for whatever the 'new' will look. We can't react to this time; we have to respond to this time.
We need to be resilient to unify and regenerate
An essential part of enabling regeneration and unity, is having the ability to build resilience.  Meet Andi Stapleton, an accomplished international strategic operations manager for the Olympic Games, a fitness instructor (which is an essential prerequisite for anyone on our business consultancy team) and a qualified psychotherapist for the last decade.  Andi is an obvious fit for Courageous Co. to enable the organisational growth and regeneration that needs to happen.
In addition to our leadership and culture change consulting, coaching and development, with Andi on board, we can now offer the full spectrum of mental, emotional and physical well-being virtual workshops and coaching.
We work differently from other consultants and coaches in that our team have experience in both the business and fitness worlds. We start with the business issues our clients are dealing with and then apply the disciplines and principles of fitness instruction to create experiences for clients to help them solve problems/develop new ways of thinking and working more quickly than with other approaches.
What it's like working with Andi
Andi is calm, patient and insightful and listens attentively to help you discover what is really preventing you and your team from operating where you would like to be. Andi accepts each individual client as totally unique. Anyone working with her should expect her to help create strategies and behaviours that enable you to set performance and resilience goals, which inspire confidence and harness positive energy.
Andi brings a whole toolkit of corporate, mental, physical and mindfulness approaches to all clients which will enable you to achieve clarity of choices to feel really good about. Working with Andi, you will feel more focused, agile and ready to resolve whatever is important to you and your organisation. You will find a way to enable regeneration.
20+ years connecting clever minds and bodies
Andi worked for over 17 years in international strategic project management roles, having led complex operations for high profile sporting events including the Olympic Games, Commonwealth Games, Paralympics and ATP Tennis Tour tournaments.
She led teams in Europe, USA, Asia and Australia, bringing together dynamic teams of experts all working under intense pressure and with very minimal margin for error. Understanding how to build strong relationships and being able to perform with incredible resilience is what enabled her to achieve successful execution and implementation.
Andi transitioned from life as a corporate executive to support business leaders when she moved into private practice at The Priory as a psychotherapist. She has been helping clients for ten years in dealing with crises, burnout, preservation of mental health, relationships, identity, stress management, wellness and developing psychological stability.
As a qualified mindfulness and fitness instructor, Andi appreciates that all clients are capable of being resourceful and adaptable to the leadership challenges they are experiencing in order to be the best version of themselves.